OrthoRehab's Pilates Program for Wellness
OrthoRehab Specialists has certified Pilates instructors who are also Doctors in Physical Therapy. We use Pilates with patients/clients for both orthopedic medical treatment and for Wellness sessions. This means you will work with experts in movement and posture to ensure your Pilates training will be mindful, effective, and safe, regardless of your medical history.
You would benefit from Pilates training at OrthoRehab if you are interested in:
Bridging the gap from injury to return to activities
Improving mobility, flexibility, strength, posture, and coordination
Correcting imbalances causing pain and stiffness
Enhancing current level of fitness or sports performance
Awakening your core musculature post-partum or any time
Bettering your balance to reduce the risk of falling
Discovering and resolving the root cause of repeat injuries
Reviewing technique if you participate in Pilates elsewhere
Having fun while developing your body and mind!
Physical Therapy with Pilates:
This option is appropriate for those who come with a medical order for Physical Therapy, or simply have an orthopedic or neurological concern for which you might seek help from a Physical Therapist. After a thorough Physical Therapy evaluation, Physical Therapists may use Pilates as a skilled intervention in combination with other Physical Therapy treatment methods. Using targeted Pilates exercises, you can see improvements in flexibility, strength, posture, stability, coordination, balance, and agility—which are typical areas to improve upon within a Physical Therapy plan of care.
Wellness Pilates:
Wellness Pilates sessions at ORSI are led by a Pilates-Certified Physical Therapist with an eye for making movement more efficient & powerful. We offer individual and small group sessions at our Edina location, and people of all capabilities can participate. We keep our class sizes small to ensure that you get the individualized attention you deserve.  New clients without a need for Physical Therapy are encouraged to schedule a 1:1 Wellness session to begin.
Wellness Pilates Offerings
Call our Edina office at 952-922-0330 and request a Wellness Pilates session to schedule your individual, duet, or small group option as described below.
Private 1:1 Pilates Session:
$110 (45 min.)
Use a combination of Pilates equipment. Get the ultimate benefits with 1:1 attention to correct form and tailor unique exercises to your body.
Duet Pilates Reformer Class: 
$65 per person (45 min.)
Get almost as much individualized attention as a private, but at a lower cost.  Grab a friend or contact us to request a duet partner.
Transformative 8-week Group Reformer Class Series:
$50 per person (55 min.)
Available upon request; to be set up in advance with a 1x/week, 8-week series. Paid upfront in 4- or 8-week intervals.
Notice meaningful changes in your body by committing upfront to a regular weekly class. We will always use modification of exercises to challenge you at an appropriate level. 1 make-up session available after commitment to 8-week series.
Please come prepared and arrive 5-10 mins prior to the start of your class to get the maximum use of time.  Please contact us 24 hours or more in advance if you must cancel.
Pilates Equipment
Our Therapists at ORSI use Pilates apparatuses with patients/clients for both orthopedic medical treatment and Wellness Pilates sessions. Our equipment is made by Balanced Body(R)–and makes your experience fun, challenging, and eye opening. You'll discover where your body needs help to perform at its best capacity.
One of the most exciting benefits of using Pilates apparatuses is the ability to be supported and challenged enough to build meaningful strength and control through your entire available range of motion.  Each apparatus is unique in its design but regardless of the equipment we utilize in our sessions, your Pilates-certified Physical Therapists apply original principles of movement and posture developed by Joseph Pilates, adapted with a Physical Therapy mindset. The tenure of our providers and combination of available equipment ensures the program is highly adaptable to any level of need.
The Reformer, Chair, and Cadillac were of the original apparatuses developed by Joseph Pilates in the early 1900s.  The main mechanism of resistance uses specially developed springs that provide a unique type of feedback about movement quality back into your body as you move.
The CoreAlign(R) was developed more recently by a Physical Therapist, Jonathan Hoffman, who was looking for a way to challenge posture and balance with more emphasis on the standing position–although it can challenge you in just about any position. The mechanism of resistance is elastic bands attached to two small moving carts in a track on the ground.
The MOTR(R) was also developed more recently, by Pilates enthusiast & Fitness Instructor Darya Bronston. This equipment is a self contained and easily portable whole-body training tool. It uses variable resistance from an internal mechanism attached to cords that can be adapted and used in 8 different body positions.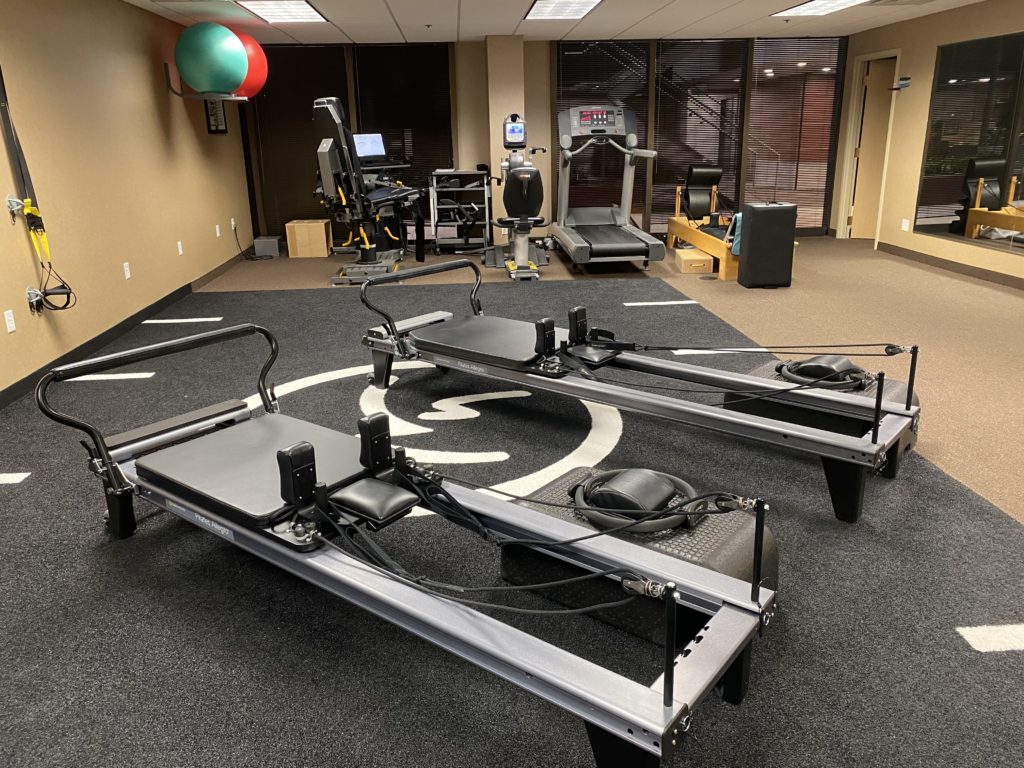 "I began taking once a week Pilates classes with Marla Brooks at Ortho Rehab PT about six months ago. The small class size and personal attention from a physical therapist who can see when I am using the correct form and when I need to adjust my form is so valuable. I had a hip replacement three years ago and struggled to both turn on muscles that had been protecting against pain for a long time and release other muscles that had been compensating. But even more than recovering lost function in my hip, it's the overall core and body strength that I've gained that I value the most. I've been surprised at how much difference one class a week has made in my strength. At age 69, I want to stay strong and flexible for as long as I can and I believe that Pilates class will help me do that. I love these classes and highly recommend them to anyone who seeks to gain strength and flexibility."
-Marilyn, 69
"Marla's Pilates sessions have been extremely helpful in managing my chronic back/hip pain and building core strength. Marla is very focused on proper form and technique, which has very helpful application as it relates to home exercises. I'm very grateful for the excellent service and care from Marla and the full team at Ortho Rehab!"
 -Peter, 33