Functional Movement Screen
The FMS is a series of tests that helps assess biomechanics and movement patterns. It is very helpful to figure out compensatory movement patterns. The assessment not only looks at quality of movement, but it also requires stability and mobility to work in tandem. The researched based data is useful to help create a specific home exercise program tailored to your individualized needs.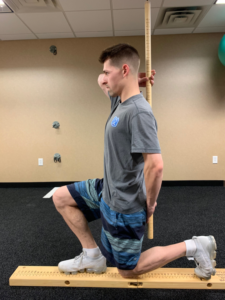 The Y balance test is used to evaluate one's dynamic balance and functional symmetry in order to determine one's injury risk and/or readiness to return to sport. This evidence-based screen can be used for the lower body or the upper body. This test has a person balance on one leg and then reach as far as possible in different directions with the other leg. The test is similar for your arms.
Minneapolis Physical Therapy
Our Minnesota physical therapists have nearly three decades of experience treating patients throughout the Twin Cities. Contact us today at our Edina or Minneapolis physical therapy clinics to set up an appointment.