Kinesio tape is somewhat popular among high-performance athletes, but many people don't know what it is or how it works. In this article, we are going to discuss Kinesio tape and when it can be useful in treating various injuries and conditions.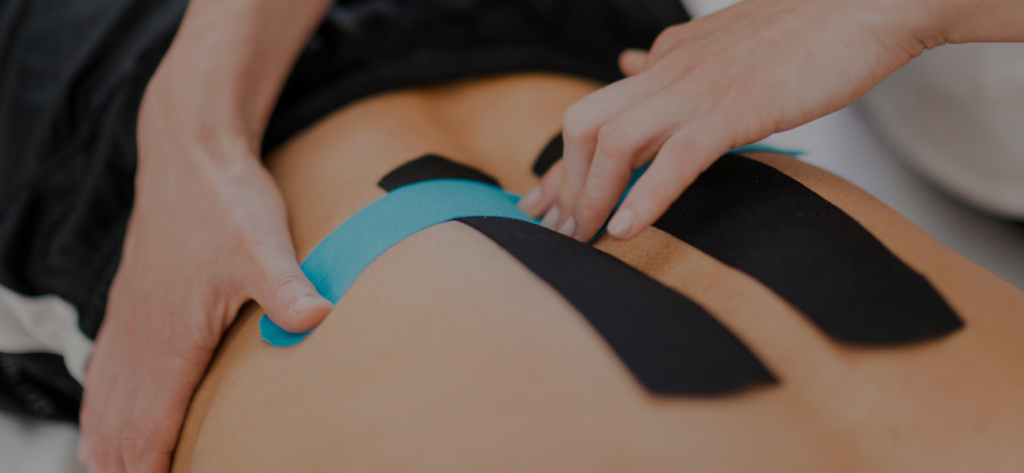 What is Kinesio Tape?
Kinesio tape is an elastic cotton strip with an adhesive on one side. The tape is placed strategically on the patient's muscles to help decrease pain and improve function. Essentially, Kinesio tape helps support the muscles and tendons and also takes pressure off the joints. This can be especially helpful for athletes who are trying to compete despite feeling pain or dealing with an injury. It's important to note, however, that Kinesio tape is not a miracle cure that can get you back in action immediately. Kinesio tape is simply one of many tools in a physical therapist's arsenal. Taping alone cannot replace working with a skilled physical therapist.
Kinesio Taping & Physical Therapy
Kinesio taping is one of many modalities used by physical therapists to treat patients. Kinesio tape is most often used with athlete patients who are trying to return to their sport after sustaining an injury, though it can also be used in non-athletes. For example, it can be quite useful in treating patients who are recovering from breast cancer surgery.
Get Physical Therapy
If you are searching for a physical therapist in the Twin Cities area, look no further than OrthoRehab Specialists. Our physical therapy professionals have nearly three decades of experience treating patients with various injuries and conditions. We have existing relationships with more than 600 local providers, and also offer direct access to rehabilitation care for those who do not have a referral. Give us a call today to set up your appointment at our Minneapolis or Edina clinics and see what physical therapy can do for you!

Latest posts by Dr. Andy Masis, PT
(see all)