With so many bones and soft tissues in our feet, combined with the fact that they handle stress with every step you take, it should come as no surprise that foot and ankle injuries are some of the most common injuries that we see at our practice. Many people think that rest is all that they need to put a foot injury behind them, but in many cases, physical therapy is actually a better bet. Here's a look at 10 foot conditions that respond well to physical therapy, and a look at why PT is beneficial for these specific injuries.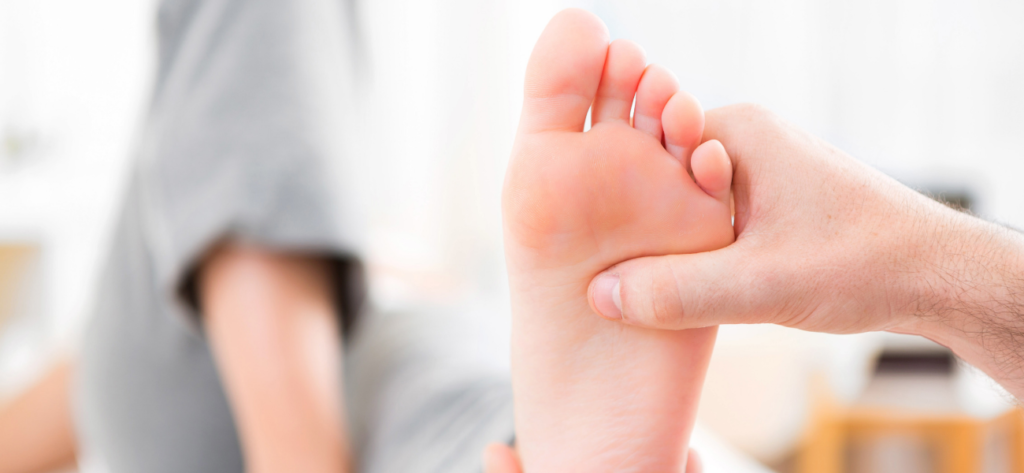 Consider PT For These 10 Foot Problems
We have a number of physical therapists on staff that specialize in helping patients recover from a wide variety of foot injuries. Here's 10 that respond well to hands-on care.
Ankle Sprains – Whether it's mild or severe, our physical therapists can help you restrengthen your supportive ankle ligaments so you can get back on the court faster and reduce your likelihood of a future sprain.
Ankle Fractures – For an ankle fracture, physical therapy can be crucial in helping to restore normal range of motion in the joint. The recovery period is a critical time for re-establishing this joint mobility, so don't put off PT if you have an ankle fracture.
Achilles Tendon Injuries – Partial or complete Achilles tendon tears will require physical therapy for best healing results. The biggest tendon in your body requires a strength training program tailored to your specific needs.
Shin Splints – Many runners and cross country athletes believe shin splints are just something you have to deal with, but that's not the case. Physical therapy can help make biomechanical improvements to avoid stressing the area of your legs prone to shin splints.
Tendinitis – Physical therapy can help to calm irritated or inflamed tendons and prevent future recurrences of tendinitis.
Ankle Instability – Similar to treatment for an ankle sprain, ankle instability is categorized by microdamage to the supportive ankle ligaments, which puts you at a higher risk for ankle sprains and rolling your ankle. PT will help to address these tears and strengthen the crucial supportive ligaments.
Bunions – We can check for gait abnormalities and advise custom orthotic inserts to help correct bunion development.
Plantar Fasciitis – Caused by the inflammation of a thick band of tissue under the arch of your foot, physical therapy is a great treatment option for plantar fasciitis because it strengthens the area and calms the inflammation without overstressing the area and causing more problems.
Big Toe Arthritis – As with any joint affected by arthritis, maintaining flexibility and range of motion is key. We can help to do that on a small scale with toe arthritis, or on a larger scale if the problem is affecting your ankle joint.
General Foot Pain – If you're confused as to what is causing your foot pain, swing into a physical therapist's office. We can get to the bottom of many musculoskeletal issues and set you up with a treatment plan the same day.
For more information, or for help with your foot condition, reach out to OrthoRehab Specialists today.

Latest posts by Dr. Andy Masis, PT
(see all)